17 Hacks to Make Your Hair Look Thicker!
by HSI Professional | Sep 26 2016
Having trouble coming up with a way to help your flat hair become lively and thick? Have you already tried the tips and tricks you've read online only for your hair to remain flatter than before? Worry not! We've got 17 different hacks to help your hair become thick, bouncy, and beautiful!
1. Use an egg-size amount of mousse. Mouse is the key for adding volume to otherwise limp hair. Simply begin with an egg-size amount in your hand (hair stylist Mark Townsend says this is a good amount if you have fine hair), and then work it evenly through damp hair, roots to ends, before blow drying.
2. Use your fingers first rather than a comb or brush when blow drying your hair. This will help to get the majority of water out of your strands! Use your fingers as a substitute for a comb, lightly raking your hair up and away from your head as you blow it dry. Pulling your hair away from your scalp (rather than drying it flat against your head) creates a fuller result. As you life and heat your roots simultaneously, you build volume. Once you're finished, go back through with a large round brush to finish styling it.
3. Switch your part for an instant root lift. If you tend to go with one part, try switching it to another! Your hair gets stuck in the routine of falling in the same place everyday, so changing it up will immediately give you some volume! TIP: If you really like the natural part of your hair, start off by wearing your hair to the opposite side while you do your makeup, then spray it with hairspray before flipping it back to your normal part for some added thickness!
4. Condition your hair before you shampoo it! We all know conditioner is amazing, making your strands nice and soft, but sometimes hair that is too soft and slick won't hold any style. Washing your hair in the reverse order will create the perfect texture you'll need for building volume!
5. Hide a clip in your ponytail. Split your ponytail in half, stick a small clip inside, and hide it with the top section for a more voluminous finish everyone will be raving about.
6. Tease your hair in small sections and spray it with hairspray. Teasing is the oldest and best trick for creating volume at your roots!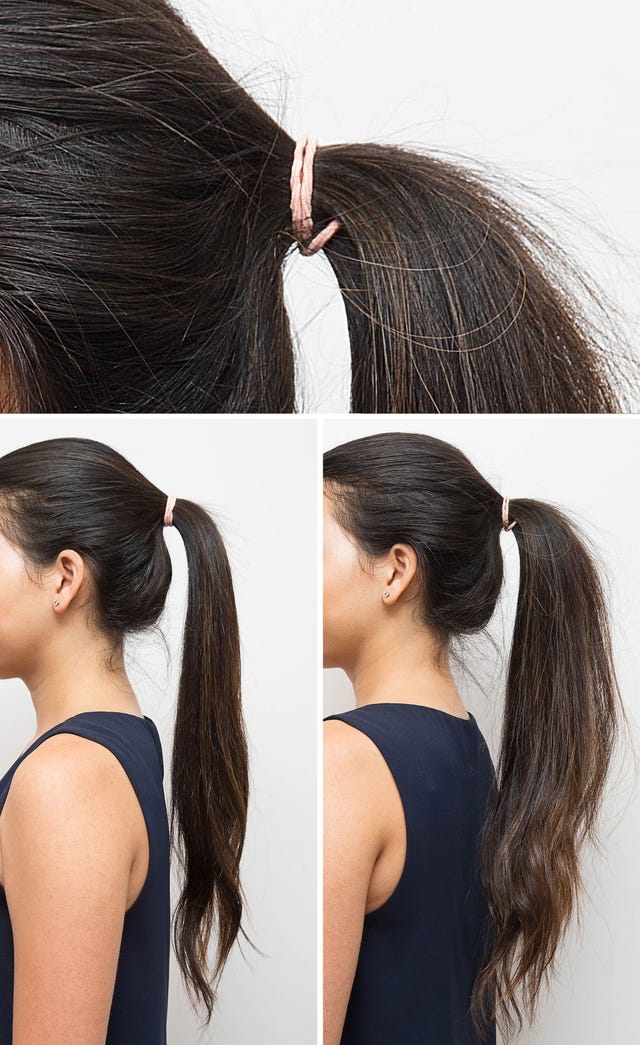 7. Split your ponytail in half with your hair tie when securing it. This will push the bottom half of your hair down and lift the top section up slightly to create the illusion of a fuller ponytail!
8. Twist your hair in small sections and pin it up while you sleep. This is going to create that bounce and volume at the ends of your hair! To speed up the process, simply use your blow dryer to blast the twisted strands dry and allow it to cool before taking it down.
9. Use dry shampoo, even when your hair is clean! Dry shampoo does wonders for reviving oily hair, but it also works wonders as a texturizing spray -- even for super-fine hair. When your hair is extra clean and lifeless, dry shampoo will create two-day texture and grip, which is necessary when building volume. The trick here is to spray it all over your hair before and after styling. When you do this, make sure to hold the bottle far enough to avoid creating a dusty white look!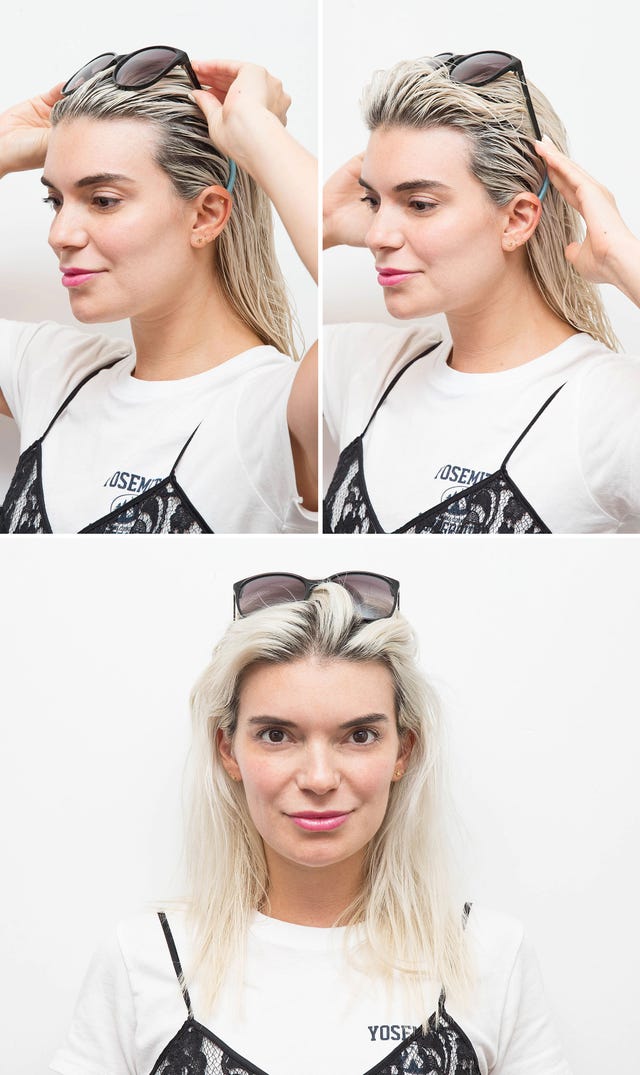 10. Use sunglasses as a headband while your hair air dries so your roots can get lifted! For those with naturally thin hair, when you let it air dry it'll lay flat against your head. Instead, try creating volume from the start while it's drying so it'll stay like that!
11. After styling your hair, flip your head upside down and blow dry it once more. Allow for it to cool before flipping it back over, finger combing it into place. Just made your hair #thicc.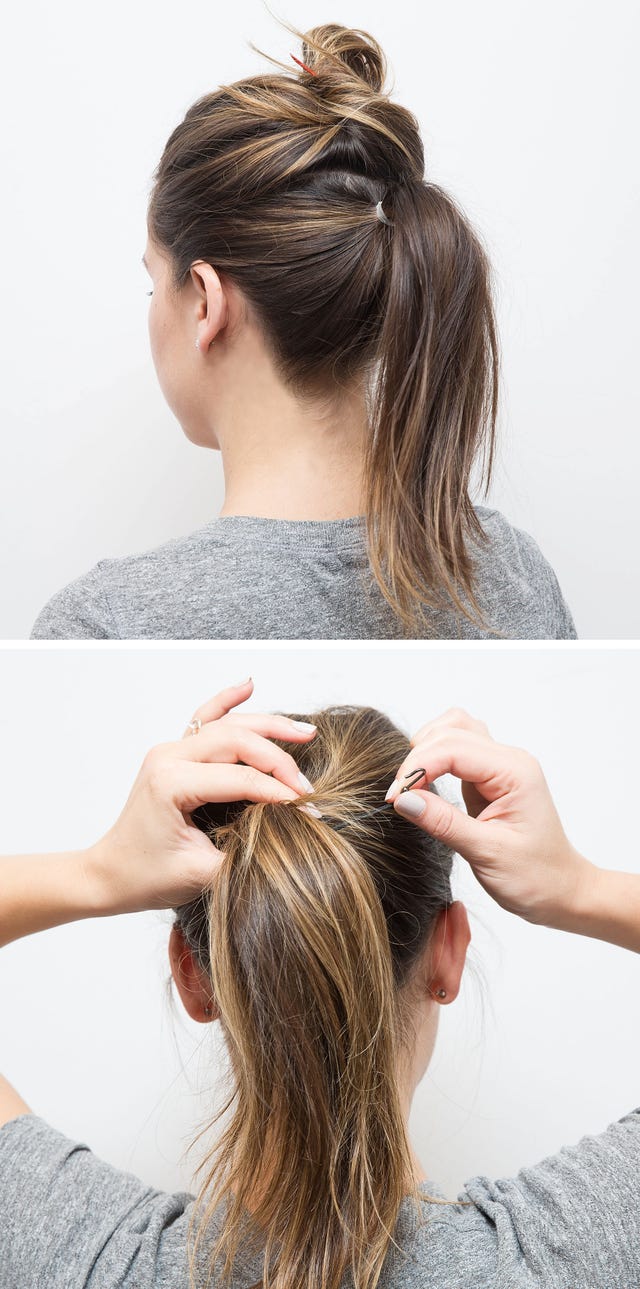 12. Secure the bottom half of your hair up in a regular tight ponytail before adding the top section to it. When you have your hair up into a ponytail all at once, its difficult to maintain the shape and height you want. While the top section stays teased and voluminous, secure the bottom half first tightly. After that, tease the top section, shape it however you please, and carefully add it to your bottom pony.
13. If you don't have a hair bungee, use a regular hair tie and two bobby pins to make your own. While holding your ponytail in place with one hand, use your other to stick one of the pins into the base of your pony. Then, wrap the hair tie around until it feels tight and secure, sliding in the second bobby pin to finish.
14. Fill in your part or areas where hair is thinner with a matching eye shadow color. This will create the illusion of having a fuller head of hair!
15. "Pancake" your braid to help make it look larger! Gently pull and tug at your braid once it's secured to create illusion that you have much more hair than you actually do.
16. If you don't have time to blow out your hair, let it air dry and then use a dry volume spray instead.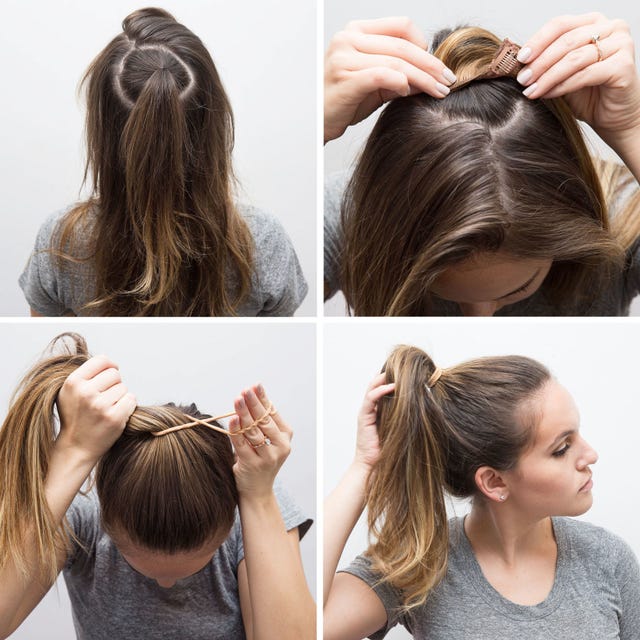 17. Hide clip-in extension inside of your ponytail to make it thicker! Make one small ponytail on the crown of your head and secure it. Then, clip in one or two clip-wefts of extensions all the way around the small pony. Once you are finished with that, pull all of your hair back together to hide the clips. Secure your hair in a pony tail as normal and voila! A gorgeous, thick ponytail.
---